Calle de Félix Rodríguez de la Fuente, 11, 11688 Zahara de la Sierra, Cádiz,
Tel: 956 12 30 32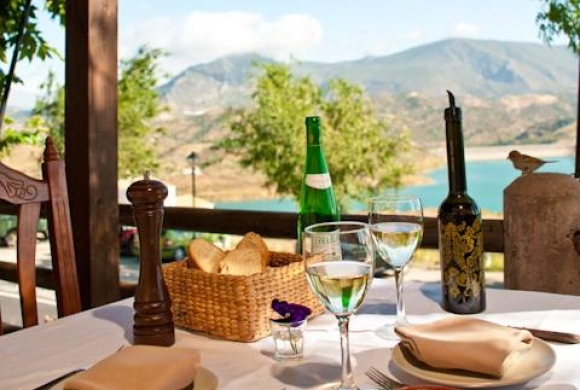 YOU are in one of the most picturesque spots in all of Andalucia. Perched high in the Serrania de Ronda mountains, you sit on a shady terrace gazing across the Zahara reservoir to the emblematic town of Olvera shimmering in the distance.
The Arabic stronghold of Zahara isn't bad itself. Sitting high on a promontary with a Crusader castle at the top it is a lovely place to while away a morning, waiting for lunch, at the hippest restaurant for miles around.
Opened by savvy Londoner Mona with her New Yorker husband chef Stefan, they have cleverly managed to combine local Andalucian offerings with upmarket cosmopolitan flair.
Slowly bringing in the changes, but keeping the locals happy at the same time, one thing they never scrimp on is quality of ingredients, most organic and locally sourced.
Stefan Crites learnt his trade from celebrity US chef Sam de Marco so he knows a trick or two. There is a seven course chef's tasting menu and always daily specials depending on what they can pick up from the markets.
The crispy fried avocado with cherry tomatoes was a great starter, as was the tomato and garlic and olive oil bruchetta. Local sheep's cheese is another winner on a hot day. Barbecued Pork belly was a superb main course, while country style rabbit risotto with rosemary and snails was spot on for winter.
Stick around for a chat with Mona, who must be one of the most entertaining hostesses in Andalucia.
TOP DISH: Seared duck breast in Malaga wine with pears, apple and new potatoes was excellent
TOP TIPPLE: Needs some work, but is improving
TOP DOLLAR: Around 35 euros a head including wine
TOP TIP: Leave time to walk up to the top of the Crusader castle. Alternatively visit the excellent and still functioning olive oil mill on the way down to the lake, where there are beaches if you want to lie down for a siesta.