Calle de los Arrieros, 2, 21207 Linares de la Sierra, Huelva
Tel: 959 46 37 17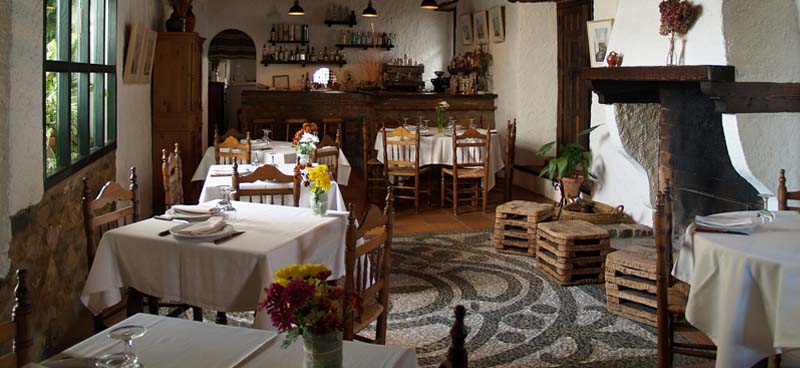 IN terms of true secrets – real hidden gems – this comes right at the top. Few places have such a smack in the gob, romantic impact right from the word go. The fact that you have to hunt high and low for it in one of the last cobbled street villages in Andalucia certainly helps.
Linares is about as good an example as any of what Spain must have been like in the Middle Ages. No frills, no big signs, the modern world thankfully at bay . . .and one of Andalucia's most alluring restaurants. Arriero fits in perfectly.
A small simple meson, with an unobtrusive front door and sign, you walk into the typical village house with trepidation. Well restored with wooden beams, a large open fireplace and a huge pebble pattern floor typical of the area.
You dine in two parts; in the main entrance hall, or a side annexe, when it is very busy on weekends. Simply furnished, while the menu is no flag of adventure, its strength lies in the carefully chosen and lovingly prepared local, and mostly organic, ingredients.
Expect excellent local Iberian ham and cheeses, as well as a particularly good home-made pate. The pimientos with wind-dried tuna is a good bet as a starter. Another tapa of free range eggs with blood sausage and prawns in a vanilla sauce is light and tasty.
There is even a section of vegetable dishes in their "huerta" or vegetable garden section. The strawberry gazpacho is refreshing and different.
Bought by a successful photographer Luismi, who is now the cook, and his elegant wife primary school teacher Adela, who is front of house, you couldn't ask for nicer hosts. "We get our meat straight from the local slaughterhouse," she explains. "We want it fresh and the best quality possible. It helps to be living in the pork and ham capital of Spain."