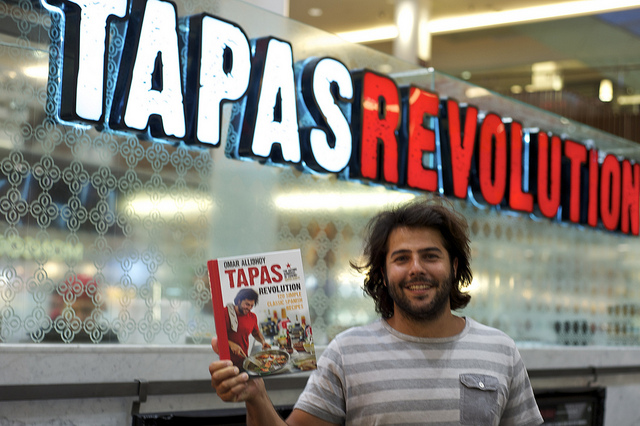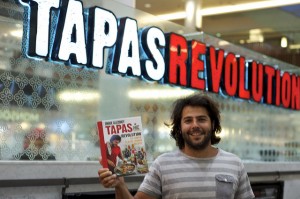 DISGUSTED at the Spanish cuisine on offer in the UK, one chef has made it his mission to bring the taste of Spain to the British Isles.
Madrid boy Omar Allibhoy has taken the UK by storm, and has even been dubbed 'The Antonio Bandaras of cooking' by his notoriously fiery counterpart Gordon Ramsey.
What's more, his book Tapas Revolution is one of the top selling cookbooks of the year.
"A lot of restaurants have tried to emulate tapas by offering small dishes, but they forget one important thing – that the dishes are to share," Allibhoy told the Olive Press.
"The secret behind good tapas is to replicate the same dish a number of times, so that everyone gets a bite or two, before moving on to the next dish.
"There is nothing more beautiful then sharing from the same plate – it is a great feeling and brings people together – the world is in need of sharing."
Born just outside Madrid, Omar's passion for food started at an early age, developing his culinary skills at evening classes while still at school.
He adds: "My mother let me help when I was five, I was whisking while standing on a chair.
"By eight she called me the 'head chef of the house' and the 'child of the spices' because of my love of experimenting."
He went on to work in numerous restaurants before catching the eye of world-renowned three-Michelin-starred chef Ferran Adria of El Bulli fame.
In 2008, Omar's dream of taking traditional Spanish cuisine across the channel came to fruition when he left his home country for London.
He worked in a variety of restaurants including Gordon Ramsay's Maze before taking the reins at the acclaimed El Pirata Detapas in West London, where he is now Executive Chef.
Omar is determined to make Spanish food as popular in the UK as Italian.
Over 12 million Brits head to Spain every year, and most of them rave about the food – so why don't they want it back home?
"When I came to the UK I took to the streets to ask that exact question – I met a 50-year-old woman who had holidayed in Spain every year for the last 20 years.
"She told me how much she loved Spanish food.
He continues: "I asked her whether she tried to cook tapas at home and her answer… no, because no one has ever shown me. – Well that was it, my mission became clear."
Omar noticed that Spanish recipes were basically non-existent.
Cooking legends, such as Delia Smith, added chorizo to dishes and called it Spanish.
He decided to go back to basics.
"More than 75% of people buy their food in the five major supermarket chains. As much as we claim we are for sustainability, the truth is very different."
The reality is that many don't or can't get to a market – so Omar decided to produce a cookbook where every ingredient can be found on the local supermarket shelves.
"No one can say they can't find the ingredients!"
Omar wants to inspire people to enter this brave new world of cooking and incorporate easy, fast Spanish classics into their everyday cooking.
Such an advocate of tapas, Omar's last meal would be a feast of Spanish cuisine including, croquetas, pil pil, roast lamb and finished with his favourite – Quesada (cheesecake).
TAPAS REVOLUTION is packed with over 100 recipes, dazzling photographs and easy-to-follow instructions. Available on Amazon.