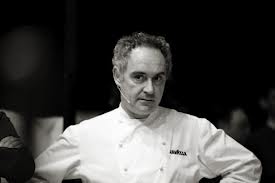 FERRAN ADRIA has revealed details of his latest restaurant venture.
The founder of elBulli, which shut its doors in November 2010, is to open elBulli1846 on the same site, Cala Montjoi di Roses in Barcelona.
The name is a reference to all the dishes created by the restaurant.
The project will cost around nine million euros, and will be funded entirely by the elBulli Foundation, the private institution led by Adria.
Construction work will start in September and should be completed by 2016.
The Catalan chef said: ""When, on November 20, 2010, we closed El Bulli to reflect on the future, nobody thought it was necessary so as not to cling on to the same things. We made avant-garde happen.
And avant-garde has an expiry date. We needed to create a new concept of future. And I hope elBulli1846 will last the next century"
The centre will only be operated as a restaurant one month a year.
Adrià said: "Fifty percent of places will be free and allocated through an online raffle while the other 50% will be used to raise funds for the centre".