COMEDY duo Rob Brydon and Steve Coogan are back with their hit show The Trip and Andalucia is one of their ports of call.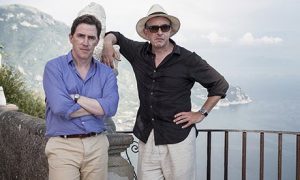 After touring the foodie delights of Italy and northern England, the pair with a penchant for impressions have filmed across Spain to check out its gastronomical hotspots.
The series will include a trip to Malaga, where we exclusively revealed last year that the comics had filmed in the Refectorium restaurant.
For the third course of their TV comedy, they are set to visit Andalucia, as well as the Basque Region, Cantabria, Aragon, Rioja and Castile La Mancha, although exact locations are being kept under wraps by producers.
The six-part series will feature the duo's alter-egos bickering in Spanish bodegas and tittering over tapas as they sample the country's finest food (including manchego cheese and jamon, no doubt).
"Having thought long and hard about yet another sojourn into culinary distractions and middle age, I have reluctantly agreed to Eviva Espana," Coogan revealed last year.
The last series in Italy aired on BBC Two more than three years ago, but Sky have now snapped up the popular show following huge demand for another series.
The series will be aired on Sky Atlantic from April 6.