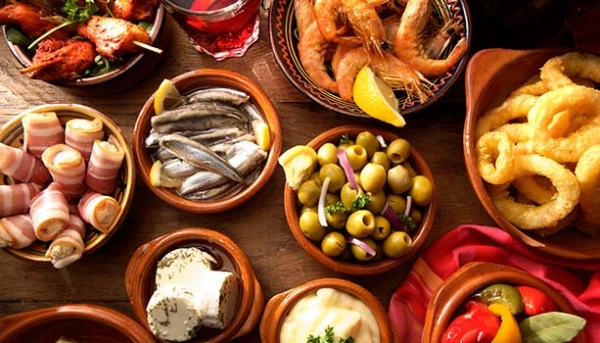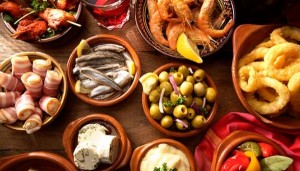 AFTER a mountain hike or a full day's sight-seeing around Andalucia's most charming town there is nothing better than a top eaterie or tapas tour.
The Serrania de Ronda has the lot, from tasty tapas joints to creative restaurants, using the best ingredients Andalucia can muster, from local goats cheeses to wild mushrooms and nuts. My favourite places to eat are in the villages stretched out around the Serrania. Exciting For years, Molino del Santo, in charming Benaojan, has been leading the charge, while El Muelle, in Arriate, finds its punters driving up from the coast and even Sevilla an hour and a half away for lunch.
Set up by charming Dutchman Frank Rottgering, this old railway storeroom is atmospheric to the n'th degree and well worth tracking down. He and his talented local chef Isa spend hours planning new and exciting dishes every month… and his menu is full of their colourful creations. The wine list is simple but inspired and the food is always amazingly fresh and beautifully served… Even better are the prices.
At Molino del Santo owners Pauline and Andy are constantly improving its offering and never scrimp on quality menu. Their quiet but capable chef Alberto keeps getting better, the menu changes by the week and there are always plenty of twists and flourishes.
For rural fare, you must also hunt down chef Ian Love at La Cascada, at hotel Molino del Puente. This unsung hero of the Serrania has been pleasing the punters with his tasty creations for well over a decade now. It's amazing riverside terrace cannot be beaten in good weather, while it is atmospheric inside for cold winter nights.
Also in the countryside near Ronda you will find Venta Pelistre, which has been serving the countryside around Arriate for decades. A true family run restaurant they breed their own Iberian pigs and grow many of their own vegetables, plus the wine list is getting better by the year. The least touristy restaurant around, if you are lucky you might bump into famous local bullfighter Cayetano, who is a regular.
Another incredibly authentic place to eat is Venta Molino, which sits in a rural spot with amazing views. This stunning old cortijo, still has many of its original features, pre-restoration, but charm personified. What it does brilliantly is meat… and you will rarely eat such good succulent pork. Slightly further away in the village of El Gastor, on the edge of the Cadiz province looking out across an amazing lake look out for La Posada. This is another charming, authentic place that has been serving the region for decades and has been beautifully restored. It has a great menu del dia, simple and good value, while you can go off piste on the menu if you fancy it.
Up in Ronda centre, there are a few really authentic places, including Porton – an institution – run by two friends Javier and Pepe for the last 40 years. Here, you will find my favourite Ronda tapa, the wonderful quails egg with ham on toast. Around the corner up the hill is one of the best tapas bars Siempre Igual, a friendly, family-run place and always busy.
Across the bridge in the most emblematic town hall square look out for Meson El Sacristan run by friendly Antonio. It has Roman ruins in the basement and easily the best steaks in the town, cooked on a wood oven. It also has a fantastic dining terrace where in good weather you can truly watch the world go by in one of Ronda's loveliest squares.
For wine lovers check out Entre Vinos, which always has a dozen wines available by the glass and dozens of local wines to open by the bottle. Even better there are some excellent tapas and it is a charm-ing place to while away a few hours. Across the street Cervezas Rondena is a good spot to drink the local beers of this superb artisan brewery. Recently renovated to include tables where you can also take a basic tapa, owner Celedonio is happy to explain the process of beer making.
For history and tradition head to Pedro Romero, opposite the bullring, which is wall to wall in bullfighting photos and posters. Another long-term stalwart is the three decades old Almocobar, which ticks just about every box for atmosphere, service, food and wines. Meanwhile, ex-Almocobar stalwart Antonio has moved to the charming, authentic spot El Pino in a nearby side street. A classic hole in the wall local, Antonio is charm personified and his tapas, including an amazing spinach and chicken burger, were fabulous. This is also one of the best value places to eat in Andalucia, and service always comes with a smile.
www.diningsecretsofandalucia.com