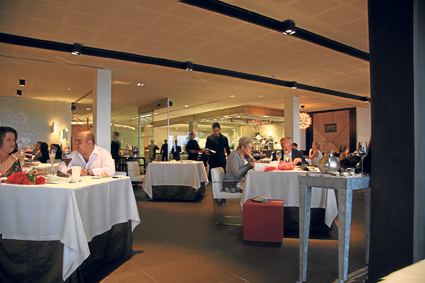 FOR two Michelin stars in Andalucia you certainly expect something special.
And celebrity chef Dani Garcia's Marbella restaurant  provides it.
Well, apart from the arrival which was a bit iffy, with nobody to welcome us. Oh, and a bizarre situation, where smokers end up wafting their smoke over diners from a cocktail terrace.
That aside, this was a majestic dining experience, from the setting, to the decor, to the food.
Something of a departure from the usual Andalucian eaterie, it is elegance in the extreme.
Apart from its terrace view across palm trees and the shimmering Med, it would not be out of place in London or New York.
Staff wear identical outfits – and even shoes – and the table decorations and lighting were spot on.
Our wine waiter Jose Godoy was a tour de force and recommended a string of interesting wines, all Spanish and most very good value, the Vallegarcia viognier from Toledo standing out.
But it is the adventurous menu, with a distinct slant towards local Andalucian cuisine, that really makes the experience.
And you don't have any choice… we were here for the 22 course, 160-euro-a-head, 'Oximoron' menu.
Bittersweet, I hear you say? Not at all.
With such chestnuts as Rocky Seabed, which was basically barnacles on a tiny shrimp crisp, Mum's empanadilla and gacha miga of crab, you are bound to be entertained.
And these were not even the stand out dishes. Cherries and cream, which was actually creamy stuffed foie was amazing, as were the snails with olive oil and parsley.
A freezing tomato stuffed with bacalao was a bit wide of the mark, but Dani's version of typical Malaga ajo blanco 'egg with no egg' with lychees had just the right balance of sweet and sour.
There were almost no meat dishes apart from a delicious beef tartare and Moorish sweet breads, served in a fabulous cinammon sauce.
The six pudding dishes made up for it though, one of them including a 'game of chocolate chess'.
But by then the man in the chef's toque had more than got us into a check mate, and completely (well sort of) justified the sizeable cheque!
By Jon Clarke
Calle de José Meliá
29602 Marbella
Málaga
Telephone: 952 76 42 52