Ian and Elaine Love have been charming diners at La Cascada for a decade now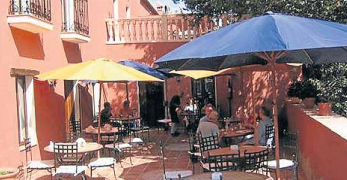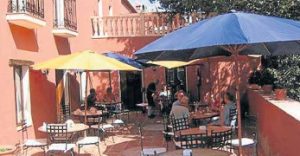 YOU sit in the heart of an ancient olive mill or outside on a shady terrace, beside a river with weeping willows and birdsong as accompaniment.
Yes, La Cascada at Molino del Puente is the very epitome of the Andalucian vernacular.
This centuries old molino has been carefully renovated by expats Ian and Elaine Love, who are constantly upping their game.
Stone walls, candles and wooden dining tables, poke around and you will find plenty of evidence of the building's history, including mill stones outside.
After a decade on the coast in Cabopino, they upped sticks for this rural idyll for a more authentic life and to bring up their three daughters.
The menu is full and includes plenty of local favourites such as mountain trout and fresh grilled asparagus, not to mention some of the best Jamon Iberico I've tried in ages.
Then there are Ian's fantastic Atlantic mussels with green chilli, coriander and coconut milk.
There are plenty of veggie dishes, including a pastry tart filled with courgettes, aubergine and topped with parmesan and pesto and there is even a Thai prawn curry on the list for those looking for something a little spicy.
I went for the fantastic special of the day, seasoned cardo mushrooms, that had just arrived from a local supplier following the first rains of autumn.
Cooked to a tee, laden on crusty bread and drizzled with olive oil, food doesn't get much better.
For a main I went for the fabulous lamb puff pastry tart, in a red wine reduction.
A genuine labour of love (I'd watched Ian prepare it earlier) it not only looked delicious, it was. A true winner.
My pudding of peach cheesecake went down well with its edible flowers, not to mention creme fraiche and a scoop of vanilla ice cream for good measure.
The wine list was a little thin and I had expected a few more local wines and a bit more variety.
That said the El Nino Leon, by local bodega Conrad, rarely lets you down and at 19.50 it was fairly priced. The next door vineyard of Los Frutales provides its Vizcondesa at 14.50.