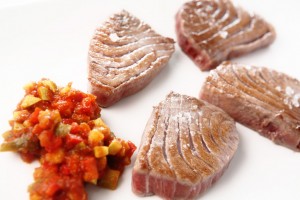 By Jon Clarke
STANDING at the pass, with orders flying out by minute and waiters baying for dishes, Jose Melero exudes an impressive Zen-like calm.
It is fortunate this seasoned chef turned down a career in the air force to run his fish restaurant, which is probably one of Andalucia's most famous.
For on a busy summer day he can be serving over 350 people… and over the three months of summer around 18,000 meals.
A haunt for celebrities, politicians and chefs from all over Spain, El Campero is best known for its amazing blue fin tuna.
Cooked in almost 30 different guises, that include tuna lasagna and three types of tuna salad, you can even eat the heart and eggs, a delicacy, which come in at around 300 euros per kilo.
Mormo, medallones, contramormo, tarantelo, the best cuts though are morillo and ventresco, which cost around 50 euros per kilo.
And Melero – often dubbed 'the master of tuna' – is scrupulous about where he gets the endangered fish from.
"We never buy tuna less than 30 kilos in weight and mostly around 10 years old," explains Jose. "We are extremely careful who we buy it from and we freeze it at minus 60 degrees – or 'calidad sashimi' – so we can use it all year round."
He adds: "I think the rules on catching blue fin tuna need to be strict and I think they are finally starting to bear fruit with numbers picking up again."
He has spent over two decades perfecting his art, having first set up a restaurant in Barbate's port with his father.
Now in a modern place in a rather nondescript square, El Campero is a four-speed operation, with everything from formal dining room to bar tapas.
And on a Tuesday lunchtime in July the place was packed to the gills.
Top tips… the traditional tuna encebellado, or stew, was delicious served up with oregano, onion and pepper, while the carpaccio of tarantelo with wasabi was superb.
Best of all was the tartare though, which comes from the tuna tails. It literally melted in the mouth, like good tuna is meant to.
Oh, to eat every lunch here.
Avenida Constitucion Local 5 C
11160 Barbate
Cadiz
Telf: 956 432 300