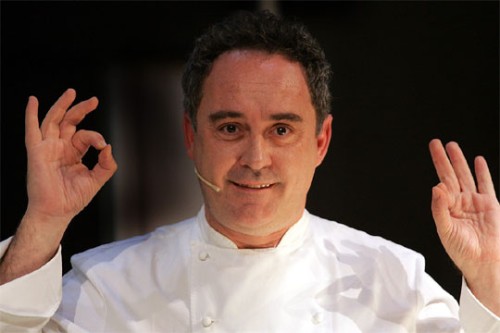 ANDALUCIA'S top chefs and restaurateurs are backing the relaunch of www.diningsecretsofandalucia.com, the region's best dedicated restaurant website.
A host of star names, including Michelin-star chefs, have come out singing the praises of the new-look site, owned by the Olive Press group, which already has over 100 top places to eat..
Revamped to include in-depth reviews, Top Five lists and an interactive map of the region, finding a knockout meal in Andalucia has never been so easy.
"It is great to finally have a site that gives us access and opinion on those places that don't live off starlights, bling, Alaskan crab claws and caviar," said Mark Wardell, boss of one of the coast's biggest hotel Sunset Beach Club in Benalmadena.
"We need to support the little guys that live and breath quality food, value and great friendly service… and there are so many places out there.
"It is great to see that Dining Secrets has already found so many of them around the region."
Restaurateur Andy Chapell, of Molino del Santo, in Benaojan, near Ronda, added: "Andalucia really needed a dedicated site like this, where we can all share our thoughts and experiences."
Speaking to the Olive Press recently in Marbella, Spain's most famous chef Ferran Adria said: "Championing the best of Andalucia has been a long time in coming.
The El Bulli maestro, added: "There are so many unknown gems here and amazing ingredients. It is great what you are doing and I salute you."
He and many other of Spain's leading chefs are regularly resharing posts on our dedicated Instagram and Twitter feeds for the site.
These include America's Eleven Madison Park star Daniel Humm, who explained: "Dedicated sites that champion real authentic food are vital for the industry. And you guys clearly know your onions."
Meanwhile, Madrid's creative Rodrigo de la Calle, who has retweeted a number of our articles,  insisted: "Andalucia is an amazing place and I love it down here. Dining Secrets is a great resource. I am sure it will do well."
French masterchef Joel Robuchon added: "Good luck with the venture."
Uncovering the best-kept culinary secrets in the region, publisher Jon Clarke has been scouring the region's eight provinces since launching the book edition of Dining Secrets in 2008.
Unsatisfied with TripAdvisor recommending ice cream parlours and sub-standard tapas bars, Dining Secrets brings in depth, honest and expert reviews of restaurants around the region.
Extraordinary
Celebrated Spanish chef Ferran Adria, of El Bulli, told the Olive Press: "I'm sure the website will do very well. People are always struggling to find the very essence of what makes Andalucia great and you are definitely doing your best to find it."
He added: "I love it down here, particularly as Andalucia is in my blood, with my grandmother coming from Huercal Overa, in Almeria.
"The region really is extraordinary now and just keeps getting better and better.
"There are at least five or six really amazing restaurants here that did not exist a decade ago and creativity is now very much at the fore, with some talented young chefs like Dani Garcia."
Great initiative
Frank Rottgering, of El Muelle restaurant, in Arriate, near Ronda, consistently voted one of the best in Andalucia, said: "Dining Secrets is a great initiative and vital for the region. It is a great website for information and easy to follow.
"It also has a great range of restaurants in all eight provinces of Andalucia.
He added: "One thing for certain in Andalucia you probably have one of the best range of good produce of anywhere in the world. We can get fabulous and diverse ingredients locally.
"Dining Secrets is all about exactly that. Fingers crossed for your success."
Fantastic addition
Owner of Marbella's successful Sala Group Ian Radford thinks Dining Secrets will be a 'fantastic addition' to the Costa del Sol's food and travel guides.
"With the power of the Olive Press online presence, I'm sure Dining Secrets will really support the promotion of the very best venues available on the coast," he said.
"We wish you the best of luck and look forward to seeing it grow."
Important work!
Andy Chapell, boss of one of Andalucia's longest-running rural restaurants Molino del Santo, in Benaojan, near Ronda, said: "I'm delighted to see the new and updated Dining Secrets. I love individual places where people are doing thoughtful and creative food served in pleasant environments so look forward to exploring the area with Dining Secrets on my phone.
"It's really important that we all share our thoughts and experiences to support all of the places doing such good work."