WE'VE all done it – rolled our eyes when a new acquaintance reveals they are vegan.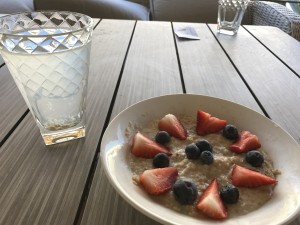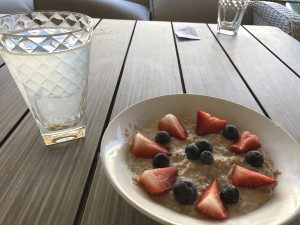 'There goes future dinner plans', you think.
But as my favourite literary hero Atticus Finch said in To Kill a Mockingbird, you never really understand a person until you 'climb into his skin and walk around in it.'
Of course mockingbirds, as all poultry and meat of any description (along with dairy) were strictly off the menu as I embarked on my trial week as a vegan virgin.
Being a committed carnivore, the idea of living on a plant-based diet for seven days filled me with dread. But it did make me think more about what I was putting into my body.
And while it takes some planning, I saw immediate results.
Every morning began with porridge – made with almond milk of course – and assorted fruits, washed down with a glass of room temperature water containing half a squeezed lemon.
For someone who usually skips breakfast, I noticed a difference instantaneously.
Although I had to crawl out of bed 10 minutes earlier to make it', my energy levels were constant, even on the most 'gruelling' days. I never miss my porridge now.
Lunches were easy too: mostly avocado salads or, on the days I forgot to pack my lunch, Mercadonna's vegan-friendly tabbouleh came in very handy.
But dinners were more of a challenge …
Trying to source all the ingredients from one supermarket proved impossible, so research where you can buy them before stepping outside or you'll spend hours tracking down red Thai curry paste, turmeric and not-so-ubiquitous quinoa.
I opted for one-pot recipes, which essentially involve chucking everything into a pan and checking it hasn't burnt every five minutes.
The Mexican quinoa was probably my favourite. Simple and quick to make, it doubled as lunch for the next day too.
Thai red vegetable curry and vegan chilli were also easy and surprisingly tasty.
By the third day of veganism my bloating had vanished. By the end of the week I had lost two kilos and my digestive system was running like clockwork.
It's not easy, and you will have your weak moments.
Mine included a sinful late-night encounter with a chicken kebab after an evening out, although in my defence it was practically the morning of the seventh day …
If you're a sugar addict like me, you may get intense cravings too. Luckily, Oreos and jelly beans are vegan-friendly.
Together with nuts and dried fruit, they became my go-to snack if I needed a sugar fix.
As the week came to a close, it dawned on me how rubbish my diet had been.
White bread with almost every meal, no breakfast and nowhere near enough fruit and veg.
It hasn't converted me, but I have changed my eating habits.
I have banned bread, I never miss breakfast and I'm reserving red meat for high days and holidays.
What's more, thinking about what I eat has inspired me to start running to get in better shape, and I have hit the tarmac every other evening since the challenge ended.