PRINCE Charles, Madonna and Kate Moss have already tasted a little bit of Joffrey. But now everyone can sample the delights of French chef Joffrey Charles de Saint Georges (to use his grand full name) who has just opened a restaurant in La Cala.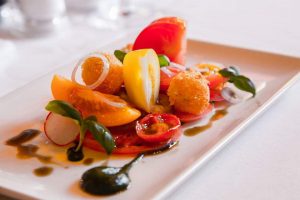 Classy Joffrey's Las Mimosas is the realisation of a dream for the 27-year-old maestro who has gone into business with his vivacious partner and former Irish TV star, Lisa Burgess. Despite having only opened its doors a month ago, it is already becoming the talk of the resort thanks to Joffrey's artistic flair and culinary passion. "It's something we've always wanted to do together," said Lisa, who was the fashion expert for TV3's Ireland AM for a decade.
"Joffrey has been working as a chef since he was 15 in some of the best fine dining restaurants around Europe, including spells in Val D'Isere, Corsica, Dublin and London. "He cooked for Prince Charles at a party of his in London and for Madonna and Kate Moss in Corsica. "What Joffrey does is food art.
His dishes look beautiful and he is so passionate about what he does." It is this recent injection of flavour into La Cala that is further turning this coastal gem into a genuine gourmet hotspot. There is a real buzz about the place, which is perhaps best epitomised by the wonderful early evening scene at classy wine bar Pura Cepa on the main drag.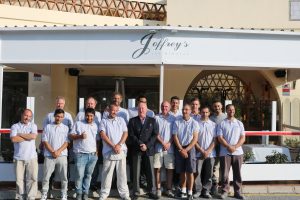 Well-to-do Scandinavians rub shoulders with London hipsters, while Spanish foodies and Dutch bon viveurs debate the relative merits of the latest reserva from Toro or Somontano. It is certainly no surprise to learn that owner Bernardo Diego Pullido (right), 31, has a number of vineyards of his own, one locally in Mijas no less and others in Ronda and even in Galicia, where he produces his own albarino Estrada Velho.
The winemaker, who studied the craft for five years, offers around 50 wines by the glass and also offers a decent mix of tapas. An ambitious man he now plans to open a new sherry bar with no less than 300 wines by the glass just up the coast near Fuengirola. Called Casa de Jerez it will open in May.
Back in La Cala, the gourmet revolution continues at Steven Saunders excellent restaurant Little Geranium. The former Ready, Steady Cook star has been cooking to a high level for decades and has served up for everyone from Lady Diana to Naomi Campbell. With a very capable team, including a mix of Spanish, Nigerian and Ghanians, his dishes are spicy and rich and the menu changes all the time.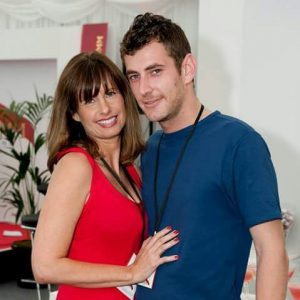 This month, we tried a fantastic cauliflower soup with pumpkin seeds, along with a skillful anchovies escabeche that really got the taste buds going. But it was the crispy duck slider with pomegranates and mayonnaise and chives that won the plaudits. The place is run with genuine aplomb by beautiful wife Michelle, who handles the bookings and front of house, while Steven pops in and out of the kitchen with tips, advice and to doff his hat to customers, as well as pose up for the odd photo. Make sure to book.
Another famous local restaurateur who is not camera shy is Elliott Wright, he of TOWIE fame, at Olivia's on the beach front. Already the star of his own show Playa in Marbella, it is little surprising that thousands of fans beat a trail to his door every month to say hello and get the obligatory picture with the amiable chap. However, one must not be sidetracked from the main event; the cooking and the venue, which is beautifully designed, maximising light and sea views.
The kitchen itself is surprisingly good, with a great mix of dishes and plenty of oriental hits, inspired by Elliot's love of the Far East and his favourite restaurant in London, Nobu. Last time I ate there dived into a super starter of Maplewood smoked tuna, with Japanese tea noodles and organic black sesame with Wasabi foam. There were scallops with lentils and dahl, pork spring rolls with shredded Asian vegetables, tempura prawns, and a great Miso cod, with pickled ginger imported from Japan. Finally we had the pork belly, which comes out slightly spicy on a white platter, with cauliflower puree and Burgos black pudding.
And then there is more, with the addition of the fabulous northern European fish restaurant the Blue Marlin, just up the road in Torrenueva. Almost unique to the coast, the fish here is unbelievably good with plenty of rich stews and dishes like seafood pasta, which is popular, not to mention the amazing clam chowder. Run by Alison and Steve Hyatt, another couple, who have also appeared on a TV show A New Life in the Sun during their launch in the area.
They run a tight ship, if you'll excuse the pun, and everything works like clockwork from the time their first punters arrive around 6pm. It is not really surprising, given that the pair ran restaurants back in Scotland, and chef Steve has worked in many places around the world and his family have been running inns as far back as 1760.
Last but not least, no trip to La Cala would be complete without a meal at stunning El Oceano. This amazing place right on the beach on the way towards Marbella has become one of the hippest, most luxurious hotels on the coast and has a brilliant restaurant to boot. After a massive multi-million euro overhaul last year it is even more glamourous and the food is matched by the skills of new chef William Squires, 30, from Devon, who has worked around the world, including at Joel Valvason's seminal Australian restaurant.
The beef tartare is his tete de cuvee, marinated overnight, then rolled in peppercorns before being seared for 30 seconds and then rested in the fridge before being served. I also liked the tempura prawns with wasabi, as well as the excellent scallops with ham, while my true winner was the original Manchego Aranchini, or rice balls seasoned with saffron. "Things just keep getting better and better here in La Cala," explains local estate agent Emma Dellow, from La Cala Sales and Rentals.
"Olivia's obviously made a big difference, and along with Geranium it has helped to up the game of the local Spanish places too. "We really like local spots like El Olivo and Albahaca, which is run by a really nice older Spanish couple and the food is amazing." Hotel Carmen owner Alvaro Corpas, 35, a local lad, agrees. "What I have noticed most is the big growth in variety. "It's very up and coming and is only 25 minutes from Malaga."
They acquired their venue last October, which is now almost completely unrecognisable from its previous guise as an old working men's cafe. Since opening at the end of February, with Lisa's daughter Georgia as a waitress, their reputation has blossomed. "We've just been growing naturally by word of mouth," continues Lisa. "Getting the restaurant open has been a real challenge and we've barely slept but the way things are going it's paying off.
"I will be happy just having a really good restaurant that does well but Joffrey already has his eyes fixed on getting a Michelin Star. "I think it will take him two to three years but he is a real grafter and a believer, which is essential."  "All the place needs now is better nightlife so you don't have to go into Marbella or Fuengirola later after dinner."
Well, his wishes may about to finally come true, with the opening of a stylish new lounge bar Jacqueline's, in nearby Torrenueva. Sitting right by the roundabout, about 100m from the beach, this is the brainchild of businessman Max Sustins, 27. Full of great ideas, the place has a fabulous front terrace which will be the perfect place for cocktails, as well as pizzas, steaks and other dishes, and inside there is an amazing fully functioning nightclub. "There is no doubt La Cala needs a place like this," says Max. "Previously you had to go to Marbella or Fuengirola for a night out. "Now you can come and visit us."